The Learjet 40 (LJ40) is a light business jet produced by Bombardier Aerospace and is derived from the Learjet 45, but with a shorter fuselage (by 24.5 inches/60 cm), and is powered by two Honeywell TFE731-20AR engines. These are known as the "AR" engines. The 40 model takes the place of the discontinued light Learjet 31a in the Learjet model line, with several welcome performance and comfort improvements taken from the 45 model.
The prototype aircraft, a rebuilt Model 45, first flew on August 31, 2002, and the first production aircraft performed its maiden flight on September 5, 2002. Both flights took place from the Wichita Mid-Continent Airport. The LJ40 entered into service in January 2004.
The Bombardier Learjet 40XR is an upgraded version introduced in October 2004, offering higher takeoff weights, faster cruise speeds, and faster time-to-climb rates as compared to the LJ40. The increases are due to the upgrading of the engines to the TFE731-20BR configuration. These are the "BR" engines. LJ40 owners can upgrade their aircraft through the incorporation of several service bulletins. Popular with business travelers and private jet owners due to its combination of speed, range, and comfort, the Bombardier Learjet 40XR is known for its excellent flying experience.
Seats Full Range (NM / SM): 1733 / 1994 – The Learjet 40XR boasts an impressive range, allowing it to cover 1,994 nautical miles (NM) or 1,733 statute miles (SM) with its seats at full capacity. This means it can efficiently connect cities and destinations within this extensive radius.
Ferry Range (No Payload) (NM / SM): 1,911 / 2,199 – For longer repositioning flights, the Bombardier Learjet 40XR can cover a distance of 2,199 SM or 1,911 NM without any payload, highlighting its capability for ferrying flights between locations.
Balance Field Length (Take-off Distance in Feet): 4,563 – The jet exhibits exceptional takeoff performance, requiring only 4,563 feet of runway length for a successful takeoff. This short takeoff distance allows it to operate from airports with limited runway lengths.
Landing Distance (Feet): 3,101 – When it comes to landing, the Learjet 40XR needs just 3,101 feet of runway length, showcasing its ability to access airports with varying runway constraints.
Average Block Speed (KTS / MPH): 425 / 489 – The Bombardier Learjet 40XR cruises at an average block speed of 425 knots (KTS) or 489 miles per hour (MPH). This high cruising speed ensures swift travel, reducing overall flight duration.
Normal Cruise (KTS / MPH): 425 / 489 – The normal cruise speed on the Bombardier Learjet 40XR matches the average block speed at 425 KTS or 489 MPH, ensuring consistent performance during regular flights.
Long Range Cruise Speed (KTS / MPH): 421 / 485 – At a slightly reduced speed of 421 KTS or 485 MPH, the Bombardier Learjet 40XR achieves an extended range, making it ideal for long-haul journeys.
Fuel Usage (Gallons Per Hour): 217.00 – The aircraft's fuel usage rate is 217.00 gallons per hour, striking a balance between speed and fuel efficiency.
Service Ceiling (Feet): 51,000 – With a service ceiling of 51,000 feet, the Bombardier Learjet 40XR can smoothly ascend to high altitudes, enabling it to navigate above most weather disturbances and optimize fuel efficiency.
Useful Payload With Full Fuel (Lbs): 1,208 – The Learjet 40XR can carry a useful payload of 1,208 pounds even with its fuel tanks at full capacity, allowing for flexibility in passenger and cargo arrangements.
Maximum Take Off Weight: 21,000 – The Bombardier Learjet 40XR has a maximum takeoff weight of 21,000 pounds, indicating the heaviest weight at which the aircraft can safely take off.
Maximum Landing Weight: 19,200 – The maximum landing weight of the aircraft is 19,200 pounds, denoting the highest weight permissible for a safe landing.
Basic Operating Weight: 13,600 – The Learjet 40XR's basic operating weight is 13,600 pounds, which includes the weight of the aircraft with standard equipment, crew, and fluids.
Total Usable Fuel Weight: 5,910 – The aircraft can carry a total usable fuel weight of 5,910 pounds, ensuring an adequate fuel supply for extended flights.
RANGE MAP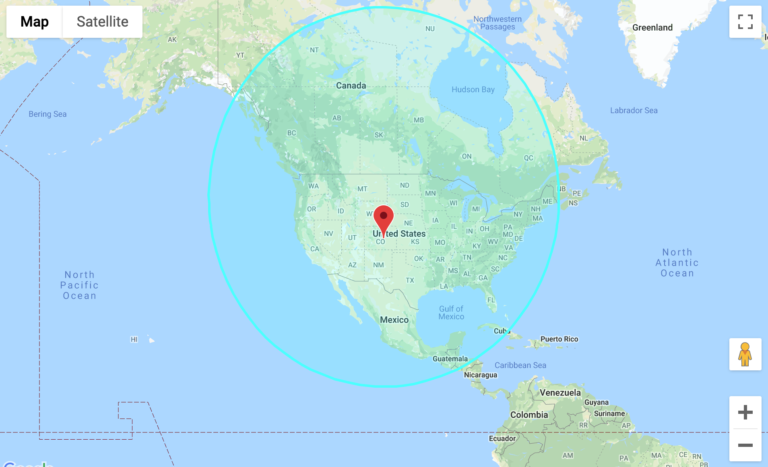 Minimum Crew / Maximum Passengers: 2 / 6
Baggage Capacity External / Internal (Cubic Feet): 50 / 15
Cabin Height (Feet): 4'11"
Cabin Width (Feet): 5'1″
Cabin Length (Feet): 17'8″
Cabin Volume (Cubic Feet): 441.54
Years in Production: 2004-2012
Active Fleet (approximate): 91.00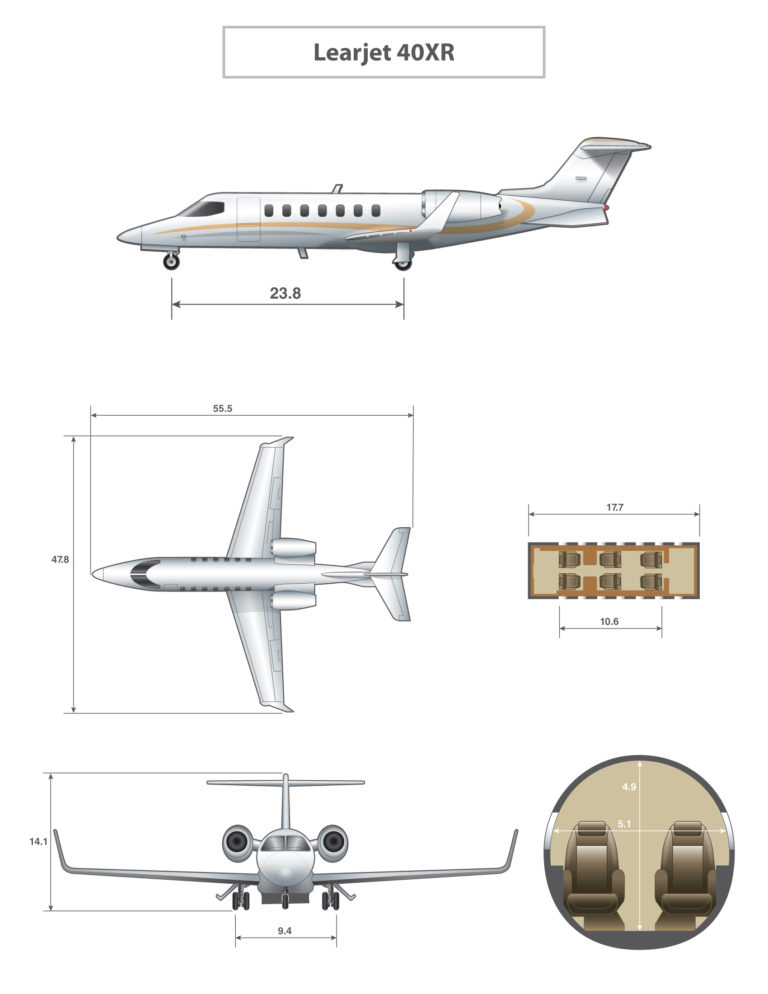 Airframe Maintenance Per Hour: $374.00
Engine / APU Maintenance Per Hour: $490.00
Fuel Cost based on Gallons Per Hour: $922.25
Crew Misc.: $195.00
Total Variable Cost Per Hour: $1,981.25
Cost Per NM: $4.66