The Bombardier Learjet 40 (LJ40) is a light business jet produced by Bombardier Aerospace and is derived from the Learjet 45, but with a shorter fuselage (by 24.5 inches/60 cm), and is powered by two Honeywell TFE731-20AR engines. These are known as the "AR" engines. The 40 model takes the place of the discontinued light Learjet 31a in the Learjet model line, with several welcome performance and comfort improvements taken from the 45 model.
The prototype aircraft, a rebuilt Model 45, first flew on August 31, 2002, and the first production aircraft performed its maiden flight on September 5, 2002. Both flights took place from the Wichita Mid-Continent Airport. The LJ40 entered into service in January 2004.
The Bombardier Learjet 40XR is an upgraded version introduced in October 2004, offering higher takeoff weights, faster cruise speeds, and faster time-to-climb rates as compared to the LJ40. The increases are due to the upgrading of the engines to the TFE731-20BR configuration. These are the "BR" engines. LJ40 owners can upgrade their aircraft through the incorporation of several service bulletins.
Seats Full Range (NM / SM): 1533 / 1764
Ferry Range (No Payload) (NM / SM): 1,664 / 1,915
Balance Field Length* (Take-off Distance in Feet): 4,222
Landing Distance (Feet): 3,080
Average Block Speed (KTS / MPH): 425 / 489
Normal Cruise (KTS / MPH): 425 / 489
Long Range Cruise Speed (KTS / MPH): 417 / 480
Fuel Usage (Gallons Per Hour): 200.00
Service Ceiling (Feet): 51,000
Useful Payload With Full Fuel (Lbs): 1,469
Maximum Take Off Weight: 20,350
Maximum Landing Weight: 19,200
Basic Operating Weight: 13,375
Total Usable Fuel Weight: 5,241
RANGE MAP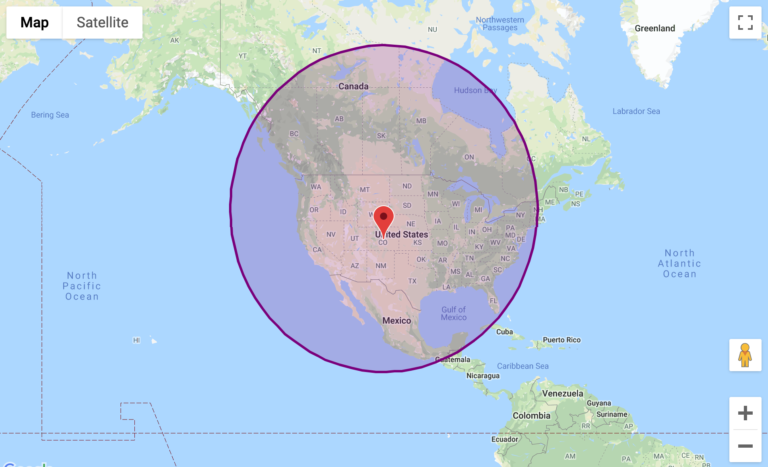 Minimum Crew / Maximum Passengers: 2 / 6
Baggage Capacity External / Internal (Cubic Feet): 50 / 15
Cabin Height (Feet): 4'11"
Cabin Width (Feet): 5'1″
Cabin Length (Feet): 17'8″
Cabin Volume (Cubic Feet): 441.54
Years in Production: 2004-2007
Active Fleet (approximate): 40.00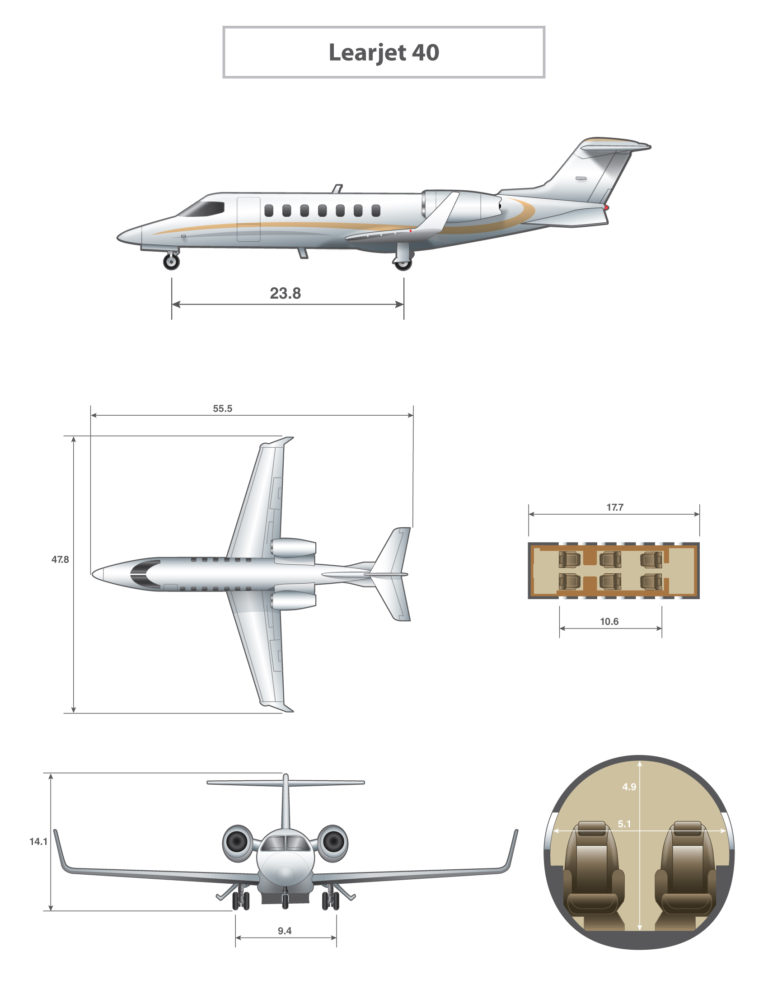 Airframe Maintenance Per Hour: $432.00
Engine / APU Maintenance Per Hour: $588.00
Fuel Cost based on Gallons Per Hour: $850.00
Crew Misc.: $194.00
Total Variable Cost Per Hour: $2,064.00
Cost Per NM: $4.86