The Gulfstream G550 is a business jet aircraft produced by General Dynamics' Gulfstream Aerospace unit in Savannah, Georgia, US. The certification designation is GV-SP. There were 450 Gulfstream G550s in active service as of January 2016. A version with reduced fuel capacity was marketed as the G500.
Compared to the Gulfstream V, drag reduction details boost range by 250 nmi (460 km) and increase fuel efficiency. MTOW is increased by 500 lb, and takeoff performance is enhanced. A seventh pair of windows is added and the entry door is moved 2 ft. forward to increase usable cabin length. The Gulfstream G550 PlaneView flight deck features cursor control devices, Honeywell Primus Epic avionics, a standard head-up guidance system by Rockwell Collins, and an enhanced vision system by Elbit, improving situational awareness in reduced visibility conditions.
Seats Full Range (NM / SM): The Gulfstream G550 sets new standards in range capabilities, spanning an impressive 7,281 statute miles (6,327 nautical miles) with full passenger seating, facilitating seamless, non-stop journeys between global destinations.
Ferry Range (No Payload) (NM / SM): This private jet showcases exceptional versatility with a ferry range of 7,798 statute miles (6,776 nautical miles) when operating without any payload, allowing for extended journeys across continents without refueling stops.
Balance Field Length (Take-off Distance in Feet): With a balanced field length of 6,045 feet, the Gulfstream G550 exhibits remarkable take-off performance, offering the flexibility to access airports with limited runway space.
Landing Distance (Feet): The G550's landing distance of 2,801 feet ensures gentle landings, granting access to a wide range of airports, including those with challenging runway conditions.
Average Block Speed (KTS / MPH): Boasting an average block speed of 548 miles per hour (476 knots), the G550 optimizes travel time, ensuring fast flights.
Normal Cruise (KTS / MPH): During normal cruise conditions, the aircraft maintains a speed of 547 miles per hour (475 knots), offering efficient travel experiences for long-haul flights.
Long Range Cruise Speed (KTS / MPH): For extended-range flights, the Gulfstream G550 provides a long-range cruise speed of 515 miles per hour (448 knots), balancing fuel efficiency and speed for extended endurance.
Fuel Usage (Gallons Per Hour): The G550 features a fuel usage rate of 431 gallons per hour, optimizing operational costs while preserving impressive range capabilities.
Service Ceiling (Feet): This private jet reaches a service ceiling of 51,000 feet, elevating passengers above adverse weather and the bustle of commercial air traffic.
Useful Payload With Full Fuel (Lbs): With a useful payload capacity of 2,438 pounds, the Gulfstream G550 allows passengers to bring essential cargo while carrying a full fuel load, ensuring every journey is comfortable.
Maximum Take Off Weight: With a maximum take-off weight of 91,000 pounds, the Gulfstream G550 ensures ample capacity for passengers, luggage, and amenities.
Maximum Landing Weight: Featuring a maximum landing weight of 75,300 pounds, the G550 facilitates smooth landings.
Basic Operating Weight: The G550's optimized basic operating weight of 46,702 pounds allows for a well-appointed interior and luxurious amenities, ensuring passengers experience unparalleled comfort and luxury.
Total Usable Fuel Weight: The Gulfstream G550 boasts an impressive total usable fuel capacity of 39,975 pounds, empowering the aircraft with remarkable range capabilities and the ability to undertake extended transcontinental journeys without frequent refueling interruptions.
RANGE MAP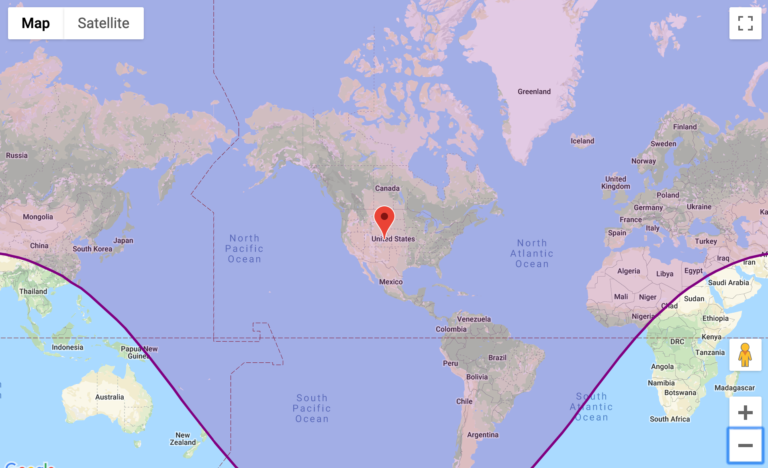 Minimum Crew / Maximum Passengers: 2 / 18
Baggage Capacity External / Internal (Cubic Feet): 0 / 226
Cabin Height (Feet): 6'2″
Cabin Width (Feet): 7'4″
Cabin Length (Feet): 50'1″
Cabin Volume (Cubic Feet): 2265.63
Years in Production: 2003-2019
Active Fleet (approximate): 550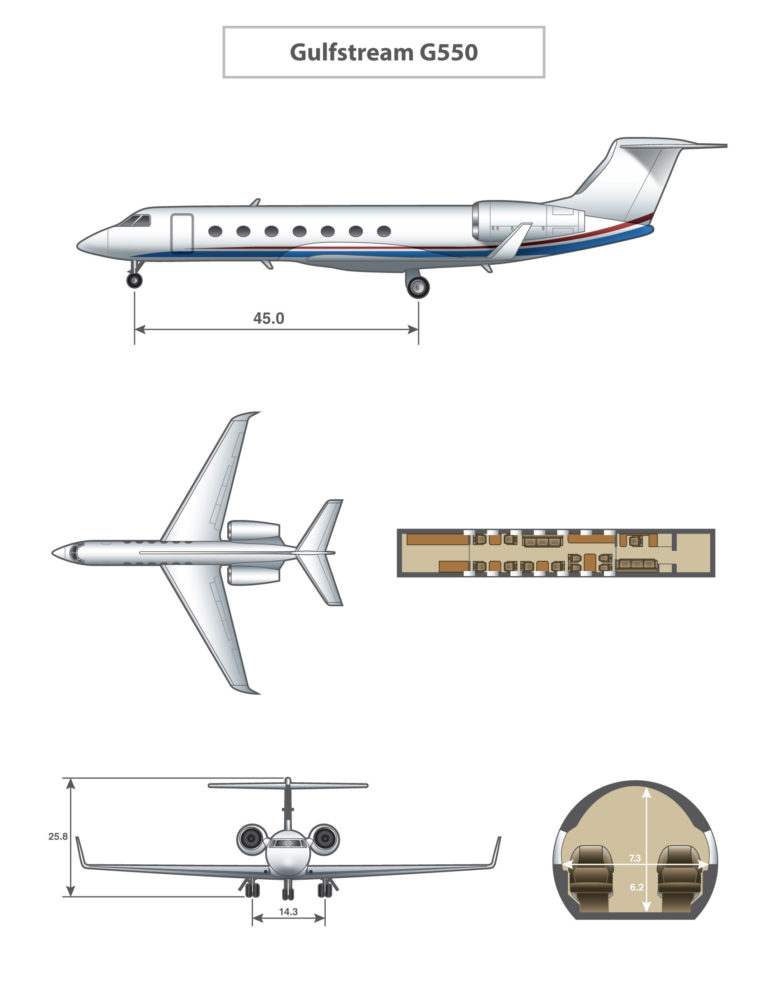 Airframe Maintenance Per Hour: $566.00
Engine / APU Maintenance Per Hour: $952.00
Fuel Cost based on Gallons Per Hour: $1,831.75
Crew Misc.: $554.00
Total Variable Cost Per Hour: $3,903.75
Cost Per NM: $8.20