Production of the third-generation Global 6000 started in 2012. Its flexible wing and 97.5 lb/sq ft (476 kg/m2) wing loading, the highest among its competitors, gives a comfortable ride in turbulence. On long trips, its fuel burn during the first hour is 5,000 and 4,000 lb (2.3 and 1.8 t) for the second, then for the third 3,000 and 2,500 lb (1.4 and 1.1 t) afterward. A Checks are scheduled every 750 hours, and C Checks every 30 months. Engine reserves amount to $260 per hour. Over 315 Bombardier Global 6000 jets were delivered by March 2019, while its competitors include the more fuel efficient 6,200 nmi (11,500 km) Dassault Falcon 8X, the 6,500 nmi (12,000 km) Gulfstream G600, and the 6,900 nmi (12,800 km) G650.
Bombardier's Vision flight deck is upgraded with Rockwell Collins Pro Line Fusion avionics from the Express/XRS Honeywell Primus 2000. It has improved acoustical insulation compared to its predecessor. By 2018, competition from the Gulfstream G650ER pressured it to a $40 million value from $62 million in 2016. It offers higher cruise speed and improved cabin layout and lighting. The range of the Bombardier Global 6000 is increased by adding a 1,486 lb (674 kg) fuel tank at the wing root. Bombardier claims it takes 15 minutes less to fuel the Global 6000 than the original model, thanks to improved computer systems and mechanical refinements.
Seats Full Range (NM / SM): The Bombardier Global 6000 provides an impressive maximum range of 6,608 statute miles (5742 nautical miles), ensuring non-stop journeys between distant destinations without compromising passenger comfort.
Ferry Range (No Payload) (NM / SM): For operational flexibility, the aircraft showcases an extended ferry range of 6,822 statute miles (5,928 nautical miles) when traveling without payload, making it an ideal choice for global travel.
Balance Field Length (Take-off Distance in Feet): The Bombardier Global 6000 exhibits exceptional take-off performance with a balanced field length of 6,314 feet, allowing it to easily access airports with shorter runways.
Landing Distance (Feet): With a landing distance of 2,801 feet, this private jet can effortlessly land at smaller airfields and airports, providing increased accessibility to remote or exclusive locations.
Average Block Speed (KTS / MPH): The Bombardier Global 6000 boasts an average block speed of 548 miles per hour (476 knots), ensuring swift travel and reducing passenger travel time.
Normal Cruise (KTS / MPH): During normal cruise conditions, the aircraft maintains an impressive speed of 547 miles per hour (475 knots), delivering an efficient and timely travel experience.
Long Range Cruise Speed (KTS / MPH): For long-range journeys, the Bombardier Global 6000 has a cruise speed of 528 miles per hour (459 knots), optimizing fuel efficiency without compromising on speed.
Fuel Usage (Gallons Per Hour): Efficiency is at the core of the Bombardier Global 6000, with a fuel usage rate of 494 gallons per hour, ensuring cost-effective operations without compromising on range or performance.
Service Ceiling (Feet): This private jet reaches an impressive service ceiling of 51,000 feet, ensuring a smooth, comfortable ride above inclement weather and commercial air traffic.
Useful Payload With Full Fuel (Lbs): The Bombardier Global 6000 is designed for versatility, enabling passengers to bring essential cargo while carrying a full fuel capacity of 2,734 lbs (1,240 kg), making every journey both luxurious and practical.
Maximum Take Off Weight: With a maximum take-off weight of 99,500 lbs (45,132 kg), this private jet offers exceptional payload capacity while accommodating various passenger and baggage configurations.
Maximum Landing Weight: The aircraft's maximum landing weight of 78,600 lbs (35,654 kg) ensures safe and efficient landings at various worldwide destinations.
Basic Operating Weight: The Global 6000 is designed with efficiency in mind, boasting a basic operating weight of 50,924 lbs (23,098 kg), which allows for ample room for passengers, luggage, and amenities.
Total Usable Fuel Weight: The Bombardier Global 6000 has a generous total usable fuel capacity of 43,598 lbs (19,776 kg), allowing for extensive range and the ability to reach distant destinations without frequent refueling stops.
RANGE MAP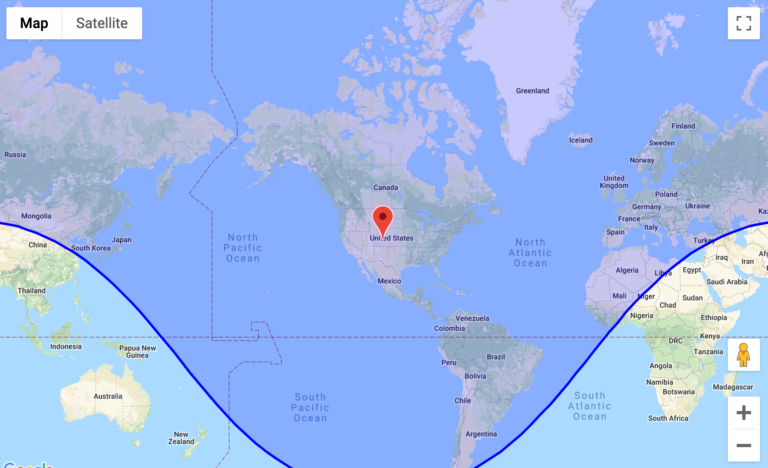 Minimum Crew / Maximum Passengers: 2 / 13
Baggage Capacity External / Internal (Cubic Feet): 0 / 195
Cabin Height (Feet): 6'3″
Cabin Width (Feet): 8'2″
Cabin Length (Feet): 48'4″
Cabin Volume (Cubic Feet): 2467.01
Years in Production: 2011-2019
Active Fleet (approximate): 205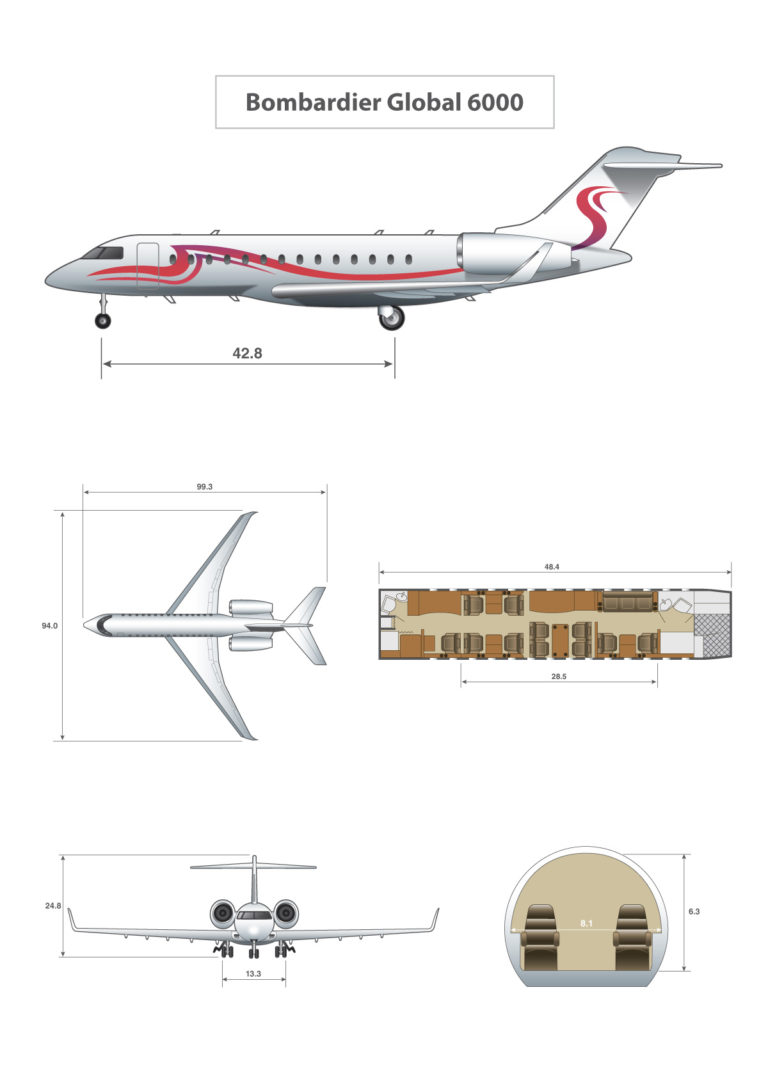 Airframe Maintenance Per Hour: $604.00
Engine / APU Maintenance Per Hour: $955.00
Fuel Cost based on Gallons Per Hour: $2,099.50
Crew Misc.: $559.00
Total Variable Cost Per Hour: $4,217.50
Cost Per NM: $8.86