The baseline Challenger 300 was launched at the 1999 Paris Air Show as the Bombardier Continental. An all-new design, it received Transport Canada type approval on 31 May 2003, followed on 4 June by US FAR 25 certification, and on 31 July, approval by European JAR 25. Assembled in Montreal, Canada, the Bombardier Challenger 300 entered commercial service on 8 January 2004 with Flexjet. The new design is not developed from the Challenger 600 or its variants.
Its supercritical wings have a fixed leading edge and 27% sweep angle; its 1.15 m (3.8 ft) winglets reduce cruise lift-induced drag by 17%. The Bombardier Challenger 300 climbs to FL410 in 18 minutes with a 455 kg (1,003 lb) fuel burn at MTOW/ISA, where at a 14,330 kg (31,590 lb) weight, it burns 680 kg (1,500 lb)/h at Mach 0.8 / 445 kn (824 km/h) tas, 875 kg (1,929 lb)/h at Mach 0.83 / 465 kn (861 km/h) tas.
The Bombardier Challenger 300 fuselage and wing are semi-monocoque aluminum structures, and the winglets are composite. The aircraft's control surfaces are operated through different systems: the outboard ailerons are manually actuated, and the elevators and rudder are hydraulic with a mechanical backup. Additionally, fly-by-wire spoilers augment roll control, act as speedbrakes, and reduce lift during ground operations. The hydraulic single-slotted Fowler flaps offer four positions: 0°, 10°, 20°, and 30°. The Rockwell Collins Pro Line 21 avionics include four LCDs, an EICAS and Maintenance Diagnostics Computer, an EGPWS, a TCAS II, and an ELT.
Seats Full Range (NM / SM): The Bombardier Challenger 300 delivers exceptional range capabilities, with the ability to cover distances of up to 3,438 statute miles (2,988 nautical miles) with full passenger seating, ensuring seamless, non-stop travel between distant destinations.
Ferry Range (No Payload) (NM / SM): The Bombardier Challenger 300 further showcases its versatility with an impressive ferry range of 3,747 statute miles (3,256 nautical miles) when operating without any payload, making it an ideal choice for global travel.
Balance Field Length (Take-off Distance in Feet): With a balance field length of 4,689 feet, the Challenger 300 demonstrates exceptional take-off performance.
Landing Distance (Feet): This private jet's landing distance of 2,927 feet ensures efficient landings at various destinations, including airports with challenging runway conditions.
Average Block Speed (KTS / MPH): The Bombardier Challenger 300 boasts an impressive average block speed of 514 miles per hour (447 knots), ensuring swift travel.
Normal Cruise (KTS / MPH): During normal cruise conditions, the aircraft maintains a speed of 514 miles per hour (447 knots), offering an efficient, comfortable travel experience.
Long Range Cruise Speed (KTS / MPH): For extended journeys, the Bombardier Challenger 300's long range cruise speed of 514 miles per hour (447 knots) ensures optimal fuel efficiency without compromising on speed.
Fuel Usage (Gallons Per Hour): Efficiency is at the core of the Bombardier Challenger 300, with a fuel usage rate of 286 gallons per hour, optimizing cost-effective operations without compromising performance.
Service Ceiling (Feet): This private jet reaches a service ceiling of 45,000 feet, providing a smooth, comfortable ride above inclement weather and commercial air traffic, enhancing the overall travel experience.
Useful Payload With Full Fuel (Lbs): With a useful payload capacity of 1,077 lb (488 kg), the Bombardier Challenger 300 ensures passengers can bring essential cargo while carrying full fuel capacity, enhancing the aircraft's versatility for various travel needs.
Maximum Take Off Weight: The Challenger 300's maximum take-off weight of 38,850 lb (17,622 kg) allows for generous payload capacity, accommodating various luggage and passenger arrangements.
Maximum Landing Weight: With a maximum landing weight of 33,750 lb (15,309 kg), the aircraft enables smooth and safe landings, ensuring operational flexibility.
Basic Operating Weight: The Bombardier Challenger 300 features an optimized basic operating weight of 23,254 lb (10,548 kg), allowing ample room for passengers, luggage, and amenities while minimizing operational costs.
Total Usable Fuel Weight: The Challenger 300 boasts an impressive total fuel capacity of 13,694 lb (6,211 kg), providing exceptional range capabilities and the versatility to travel without frequent stops to refuel.
RANGE MAP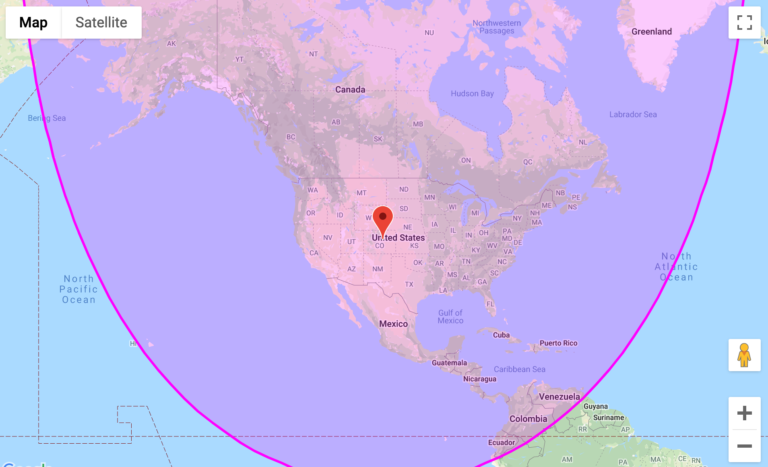 Minimum Crew / Maximum Passengers: 2 / 8
Baggage Capacity External / Internal (Cubic Feet): 0 / 106
Cabin Height (Feet): 6'1″
Cabin Width (Feet): 7'2″
Cabin Length (Feet): 28'7″
Cabin Volume (Cubic Feet): 1246.15
Years in Production: 2003-2014
Active Fleet (approximate): 400.00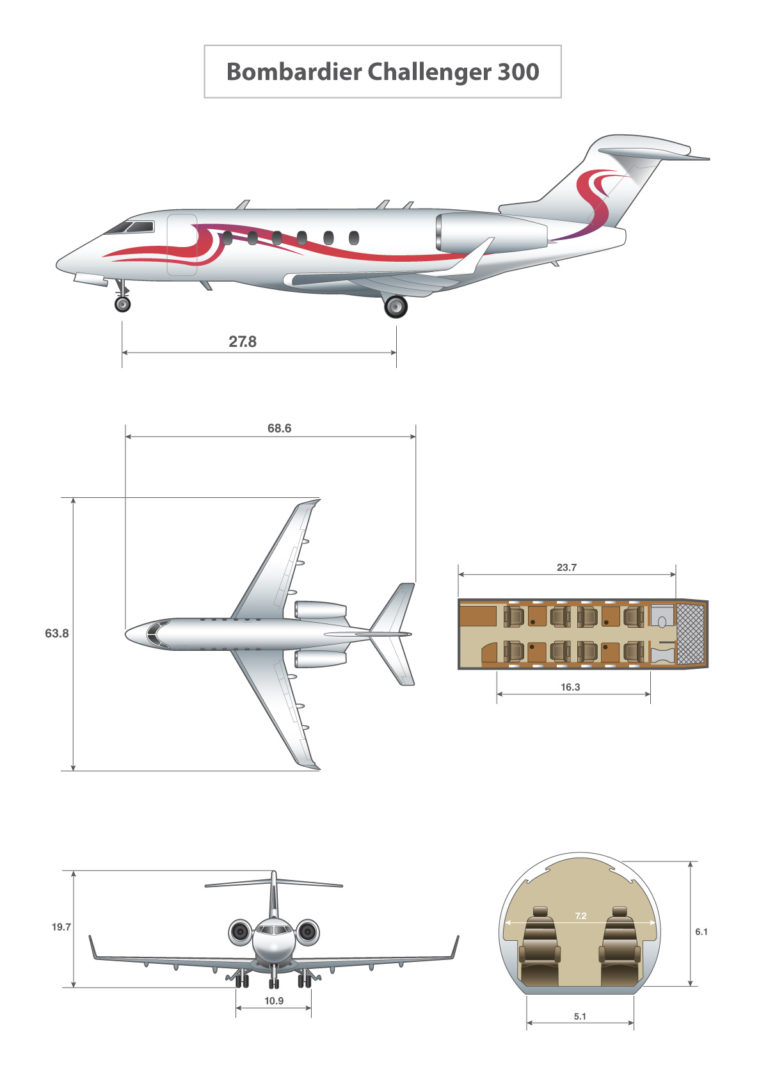 Airframe Maintenance Per Hour: $467.00
Engine / APU Maintenance Per Hour: $547.00
Fuel Cost based on Gallons Per Hour: $1,215.50
Crew Misc.: $466.00
Total Variable Cost Per Hour: $2,695.50
Cost Per NM: $6.03